Online Legal information System
This web-based application is designed for Legal Department of banks. The featured of this application is to keep the record of all registered cases filed against bank as well as cases filed by bank against any individual/organization. Summary/period Reports can be generated with status/nature/stage of case and advocate. Entire detail of any case like date of hearing/recovery/paid fee to advocate etc. can be viewed as well. All relevant information can be seen with minimum effort.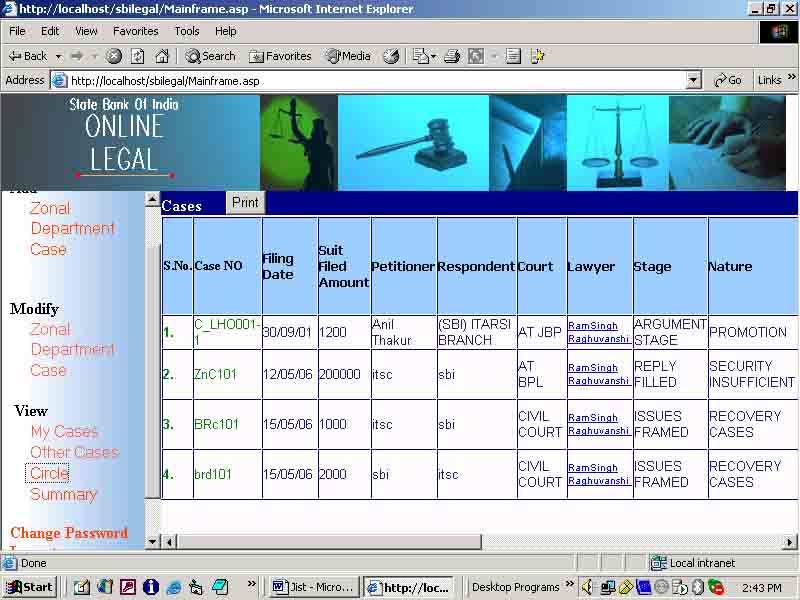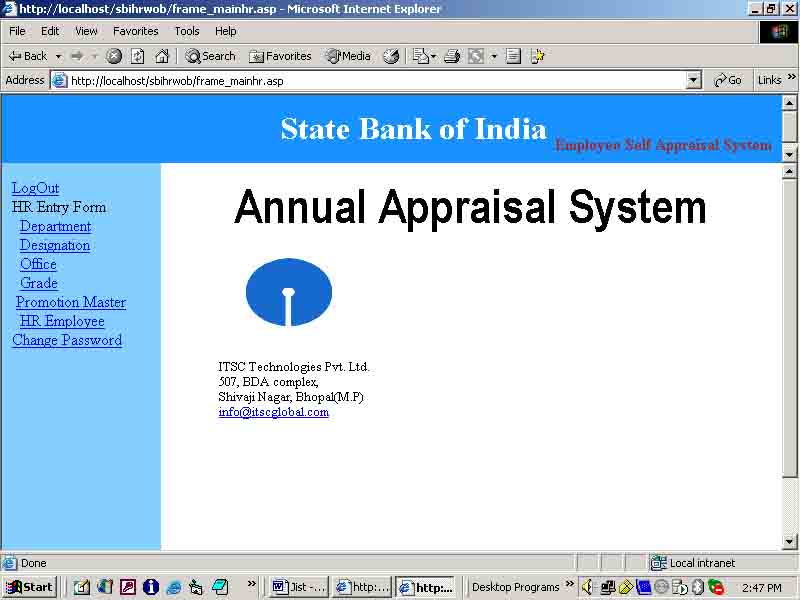 Online Appraisal system
This web-based application would let any employee submit appraisal report to the employers. The user profile of this application consists of employee, reporting authority and reviewing authority. Reporting authority can only fill/edit their part of field's pertaining to them his appraisal but also he can mark on the appraisals of his /her subordinates. Reviewing person can also fill his appraisal and review the appraisal of his subordinates. The security and confidentiality level of this application is robust. It not only reduces time and cumbersome paper work. A complete database of employee appraisal records can be kept for decision making process about primary issues of employee.
Estate Information Management System
This application has been developed for Reserve bank of India Bhopal. Estate department is responsible for all miner/major works related to construction/maintenance, material procurement and stock maintenance. This software helps in floating tenders, keeping track of all tender process like tender cost, EMD Deposit, Schedule of Quantity, Nature of Work, Schedule of Supply, Material Allocation, Depreciation, Contractor's Records etc. It generates analytical reports on the basis ofall above mentioned information. It helps RBI to take decision to select suitable vendor.Estate department is involved in procurement and finance. This application reduces time & efforts that involve in data gathering, Reporting, Decision Making.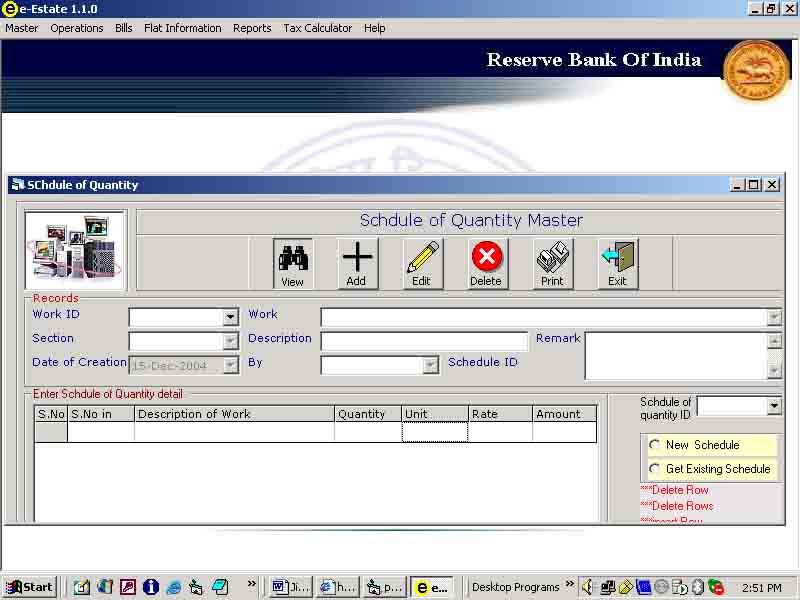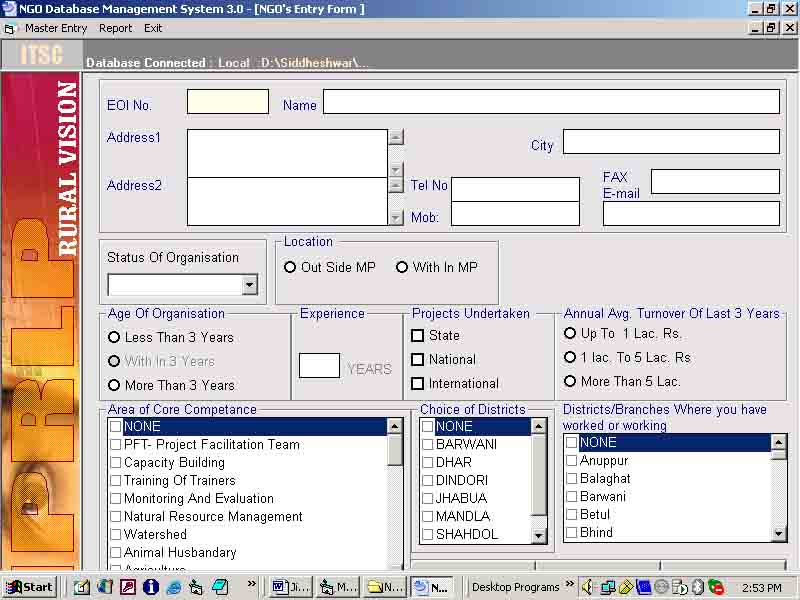 Expression of Interest – Information System
A customized software solution with the capacity to sort and fetch appropriate information about NGO/Institutions/Consultants on the basis of Name, H.Q. Address / Location (within Project district or outside project district), category, and field of interest, Project undertaken (international, national, state) and fulfill many more requirements for information retrieving. Software will also generate reports for the required information on demand. An e-mail facility has also been integrated.
Village Selection / Cluster Identification System
A comprehensive Information system which can perform village selection based on various socio economic parameters and also identify different clusters of villages in each project district where different project facilitation teams can work smoothly and with higher efficiency. This is a GIS enabled application which facilitates appropriate cluster formation based on various socio economic parameters to identify most deserving villages for project interventions and establishment of office facilities. This solution was designed to facilitate MP Rural Livelihood Project to select villages with high degree of livelihood problems.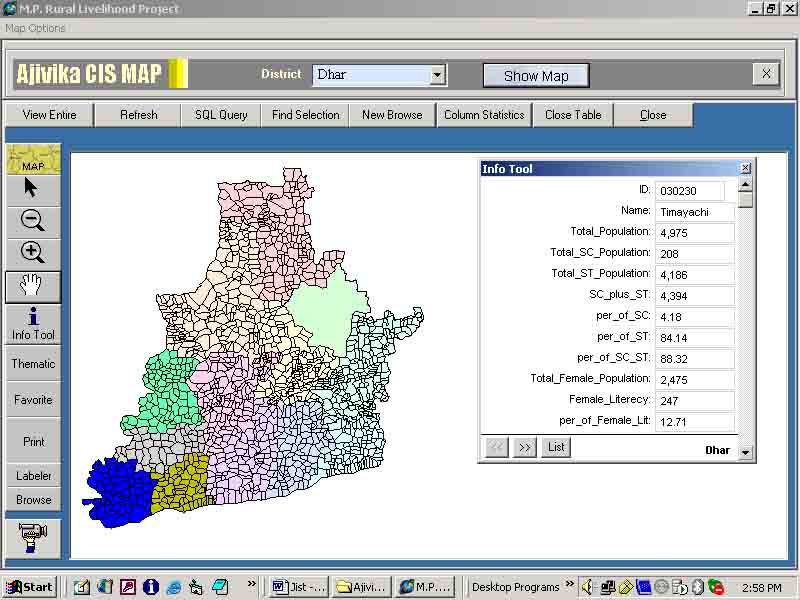 Online Inward/Outward System
This application was created to facilitate the letter tracking system in any organization. A complete record of incoming and outgoing letters is kept. A in-house file and letter movement tracking system is also part of this application. One of the unique feature of this application is one letter can be send to multiple address at same time and this application keep records of all letters with unique identification number.
Online HR System
This robust application is built to keep the record of application sourcing, recruitment process, appointment, service details till retirement. This application contains information storage under following heads as application sourcing points, recruitment activity details, appointments, personals, promotions, achievements, appreciable tasks, suspensions, general enquiries, departmental enquiries, trainings, penalties, educational detail, professional experiences, explanation notice, transfer postings can be available.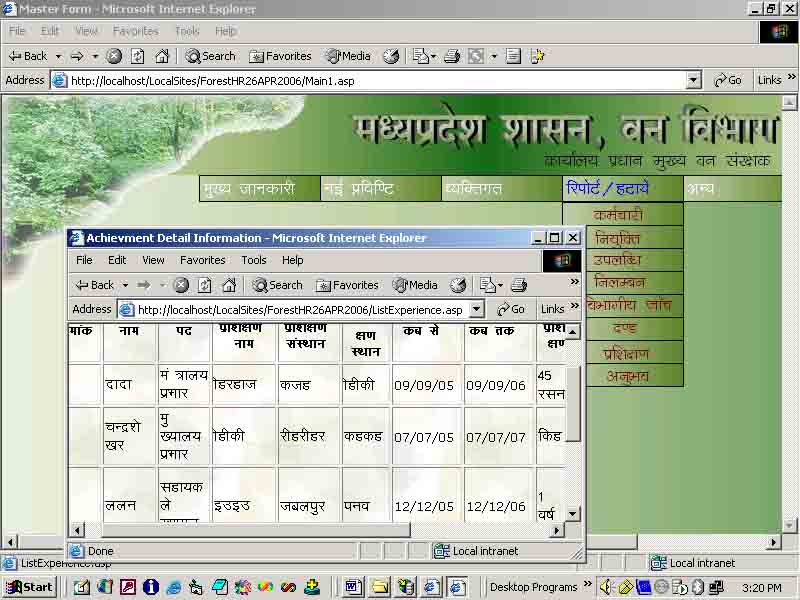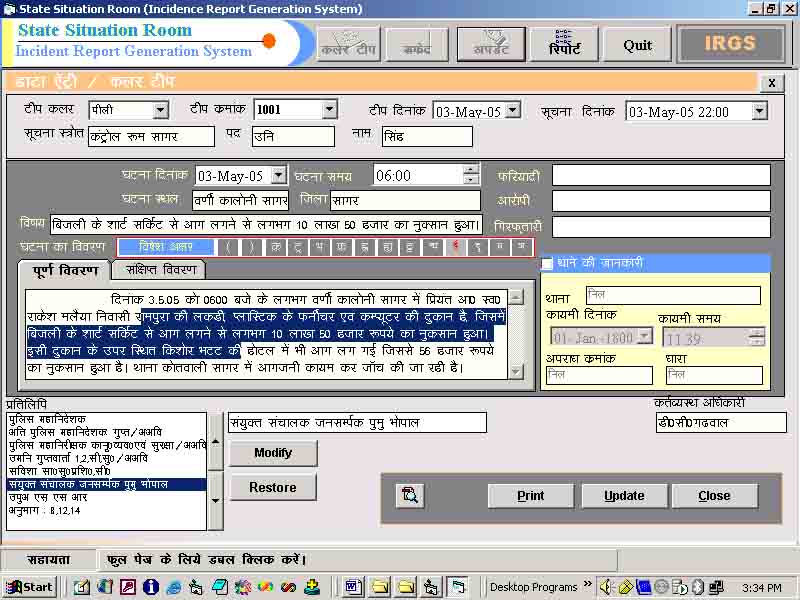 Automated State Situation Room (IRGS)
This application is developed for state police department for sending confidential information to the head quarter. The features of this application can deliver reports containing detailed information about each level of sensitivity. Similarly several queries can be fired to retrieve the required details.
Inventory System
This application has been designed with features to customize as per user requirements. This is a comprehensive inventory management system which keeps track of inventory purchased /sold. An accounts module has also been integrated. The report generation feature generates several reports consist of analytical reports as well as organizational information.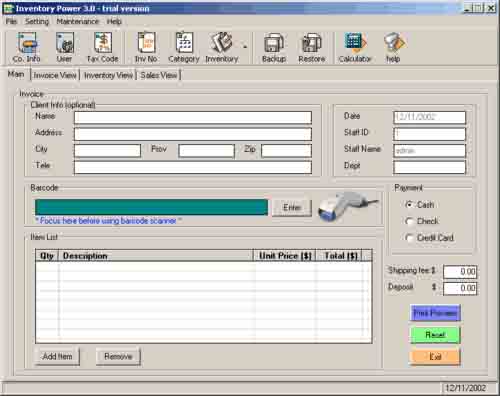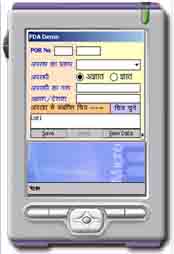 Forest Protection Management System 2.0
This application is designed to track poaching of tree and forest animals. The Primary Offence Report consists of information gathered from various division, sub-division, range and beat level. Data from desktops as well as from PDA (Pocket PC) can be used to enter in to the application. This application serves as an MIS for Forest Department which helps senior officials as a DSS. The forest guards located in various locations can send data with GPRS connectivity to the remote server located in the head office. The sent data and images can be seen with a built-in browser. This application has several features of GIS as well as GPS.
Training Tracking System
This application was developed for MPRLP. A comprehensive Training Tracking System which serves as an MIS for the project which incorporates all the data/information about each training organized. The livelihood training related to Farming, Agriculture, Animal Husbandry, and Watershed Development, Health and Education as well as farmer empowerment. The reporting system of this application shows the numerous reports with different parameters about trainings organized/to be organized. It also tracks various training resources like trainer, training aids etc. Apart from the various highlighting features it has a strongest interactive Financial Tracking which in turn works as a budgetary controlling tool.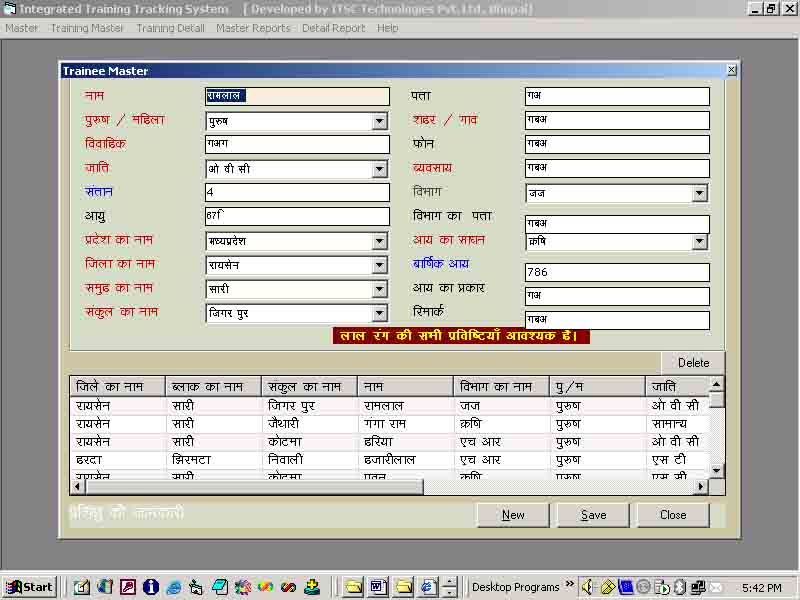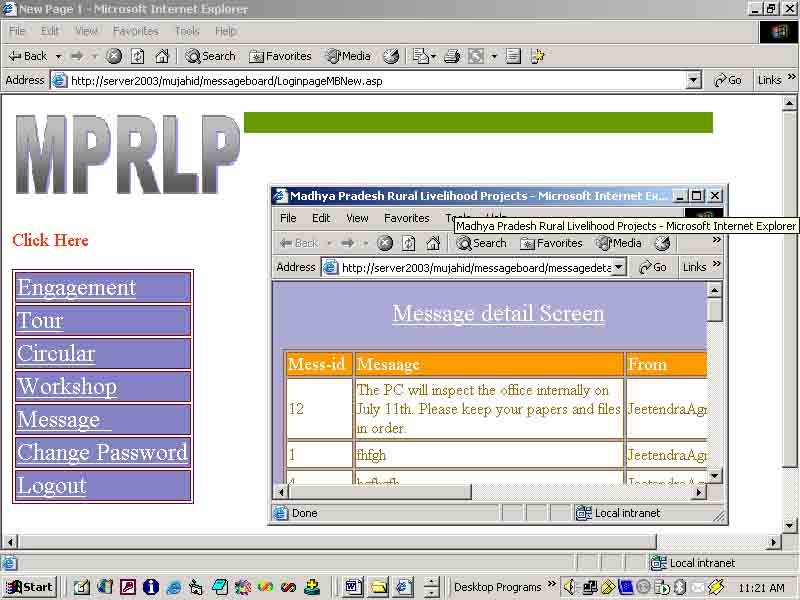 Online Message Board
This application can be used as a general purpose in transit utility for any office irrespective of the nature of the organization. This application is basically incorporates all the features of online communication/messaging system. It has a message board where any personnel can put their views as well as his/her appointments and tour details so that a visitor to that office can view information regarding availability of persons on the kiosk also. User can chat as well as transfer documents over intransit. It also provides email facility.
Interactive Salary System (ISS)
An interactive salary processing system which incorporates various features as storing and maintaining employee data i.e. profile, designation, department, joining date, pay scale, posting details, increments etc. It process salary of each employee on the basis of no of working days and perform various increments, deductions, overtime, monitory rewards where ever applicable in calculation of salary. It has a sound feature of leave management also it gives several textual as well as graphical analysis of leaves taken by the employee which in turn used in employees performance appraisal. This software can be customized according to the end user/ organization need.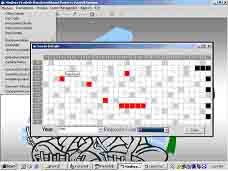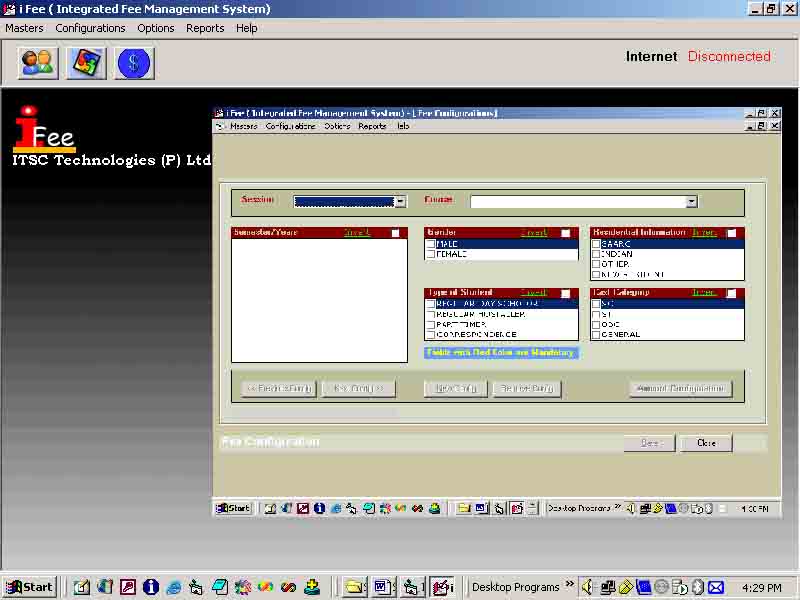 Interactive Fees Management System (IFee)
This application process information related to the institutions and processing/accounting of fees can be configured as and when required for each streams available in the institution i.e. student profile, cast categories, residential, admissions, current semester, late fee, mass fine penalty, custom fee heads, head categories, fee frequency modes, payment modes, banks, as well as academic information like education sessions, course categories, institutional details, configurations, fee deposit etc. the highlighted feature in this application is that The given amount of fee is automatically distributed in several fee heads. This software can be customized according to the end user/ organization.
Interactive Accounts
This application is a versatile term irrespective of any organization / industry /institution. The application has been designed keeping in mind the customization aspect of user requirements. A Comprehensive Accounts system which keeps track of all activities related to accounts. On the basis of data captured by different modules in this application It generates several reports having vital information to manage or run various functions of the organization.